What to Look for Choosing Optical Transceivers?
A fibre optic transceiver is a photonic and electronic device that transmits and receives data through optical fibres rather than wires. It is also known as an optical module or fibre optic module. It is important to choose the right fibre optic transceiver for your use. Today's major local operators are making great efforts to develop cellular campus networks and enterprise systems, enabling the number of fibre optic transceiver products to be increased to meet the needs of access network construction.
The following are 9 key points to consider when selecting the right optical transceiver.
Form factor
Different transceiver form factors are defined by the Multiple Source Agreement (MSA), an agreement between multiple suppliers to manufacture optical transceivers for different network devices. There are several types of Form Factor on the market today, the most popular types include SFP, SFP+, QSFP and some other less common types such as CFP, CFP2, CFP4, 1×9, SFF, GBIC, XFP, SFF, X2, XENPAK, CSFP, etc. You should use the most popular types of Form Factor depending on your platform and the actual size of the transceiver. You should choose the right form factor for your platform and your actual needs.
Hilink 200G QSFP56 SR4 Optical Transceiver
Data rate
The bandwidth of the fibre optic determines the data rate. Transceivers accommodate data rates based on standards such as Ethernet, Fibre Channel, SONET, SDH and InfiniBand. The advent of dual-rate optical modules is typically motivated by cost considerations, from 1G to 10G, 10G to 40G, 40G to 100G, which can be used at higher data rates, which means that Gigabit Ethernet is very fast. Dual rate optical transceivers are a cost effective solution to this problem.
Transmission distance or link budget
Fibre optic systems are increasingly reverting to copper networks due to their different favourable conditions such as high speed, high bandwidth and high density. Compared to traditional copper cables such as twisted pairs or coaxial cables, fibre optic cables can support much longer distances. However, in practice, the exact distances that can be supported by optical fibre are limited by many factors. Transmission distance has become one of the biggest issues in ultra-high-speed optical communications. It is important that you understand the maximum distance or link budget required for a fibre optic connection system.
Fibre optic modes
There are two modes of fibre optic transceivers available. Single-mode and multimode, which are usually designed for medium to long distance systems such as metros or any other long distance network, and single-mode fibres on the other hand, have a smaller core size allowing the transmission of single-mode or light. Multimode transceivers are usually less costly but have shorter transmission distances (< 2 km), while singlemode transceivers have longer transmission distances, up to 160 km, but are more costly.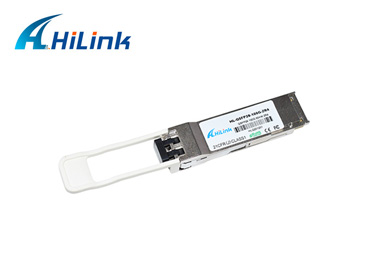 Hilink 100G QSFP28 ZR4 Optical Transceiver
Wavelengths
It is important to know the wavelength when choosing a fibre optic transceiver, our eyes are sensitive to light in the wavelength range of 400 nm to 700 nm. In fibre optics, however, light is used in the infrared region where wavelengths are longer than visible light. Common wavelengths are usually from the 850 nm to 1610 nm range. Multimode fibres are specifically designed for use at 850 nm and 1310 nm, while single-mode fibres are used from 1310 nm to 1550 nm.
Operating temperature
Fibre optic transceivers have different operating temperatures when in use. For commercial fibre optic transceivers, it typically operates from 0°C to 70°C, while for industrial use, it operates from -40°C. to 85°C.
Compatibility
Compatibility is also an important part to check before purchasing a fibre optic transceiver. It is vital to test each fibre optic transceiver for interoperability and compatibility. Because there are so many brands of networking equipment, many brands such as Cisco, HP and Ciena lock down third party transceivers and do not allow non-certified modules to be used with their switches. Compatibility is always an issue for you and you must do extensive research and ask your supplier to guarantee the same functionality as the branded genuine product. Want to find out more about transceiver compatibility? Click here.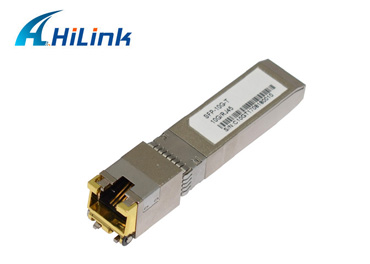 Hilink 10G Copper RJ45 SFP+

Availability
There are many brands that manufacture or supply fibre optic transceivers and in today's internet world you may be able to find specific models on various websites, but it is advisable to check each feature carefully before placing an order.
Price
As we have mentioned, you may find optical transceivers in many brands and sources. They often have huge price differences between many different brands and even incredible differences between OEM transceivers and third party transceivers. Considering your budget and knowing what you are willing to pay, it is recommended to buy from an optical transceiver supplier at an affordable price.