What Is the Difference between AOC and DAC Cables?
Due to the digitalisation process, data processing, storage and transmission have developed rapidly. Rapidly expanding data networks require efficient, high-bandwidth, reliable and low-cost data transmission media. As a result, the use of AOC or active fibre optic cables is steadily increasing.
Many readers may already be familiar with AOC or active fibre optic cables. Nevertheless, we feel that it is time for a quick guide. This article will discuss some common questions about AOC cables.
What is an Active Optical Cable (AOC)?
In layman's terms, an active optical cable has modules at both ends of the cable that allow direct communication between devices over a permanently linked fibre optic cable. It has fixed connectors and specified lengths of cable at each end. An Active Optical Cable (AOC) is essentially a transceiver product that is permanently embedded in a fibre optic cable. AOC cables can be used for multi-line data communications, and interconnected applications and to accelerate storage, data and high-performance computing.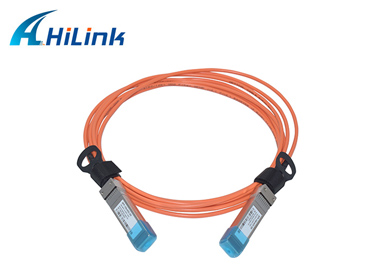 10G SFP AOC Cable
What is a split-wire active optical cable (split-wire AOC)?
Also known as a fan-out AOC, Breakout AOC is an active optical cable used to convert a high-speed channelised port into multiple lower-speed ports. For example, the QSFP+ to 4x SFP+ Breakout AOC has one 40G QSFP+ module and four 10G SFP+ modules, providing connectivity between QSFP+ and SFP+ ports.
Unlike most AOCs, it has different modules on each side and different data speeds on each side. For example, QSFP+ has a bandwidth of 40Gbps, while SFP+ has a bandwidth of 10Gbps.
What are the applications of active optical cables?
AOC cables have been developed as an alternative to traditional direct-attach copper (DAC) cables to provide longer distances. They are typically used in data centres and high performance computing (HPC) applications where a balance of length and value is required. Active optical cables are expected to become more common in the coming years as more and more enterprises rely on high performance computing and network storage solutions, rendering copper cables obsolete.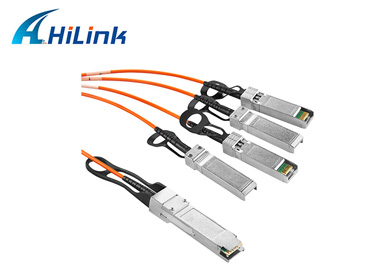 40G QSFP TO 4X 10G SFP+ AOC
AOC vs. DAC cables, what's the difference?
Cost: When dealing with the many transceivers and connections within a data centre, AOCs can save money by using DAC cables. DACs are the best option for data centre owners to buy in bulk to equip their facilities, from the copper wire needed to connect the two ends to the low-cost electronics of the transceivers themselves. On the other hand, AOCs using fibre optics and other optical technologies are a more expensive option. On balance, DACs are much cheaper.
Signal reliability: Many computers, routers and switches are located in data centres, all of which generate electromagnetic interference. Electromagnetic interference can interfere with communications because DACs use electrical signals to transmit data between the two ends. In this case, data centre operators may experience failures on their data links. AOCs, on the other hand, do not have this problem, as they may run for more than 100 metres before any defects are detected by engineers. Therefore, for a typical length of 50 metres, data centre operators using AOCs will not experience noise or interference problems.
Weight: Active optical cables, consisting of two optical transceivers and a fibre patch cable, are a quarter of the weight and half the size of directly connected copper cables.
Power consumption: Power consumption and cooling costs are significantly lower than with DAC cables, resulting in significant savings in operating costs.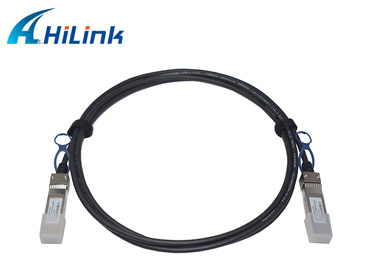 10G SFP+ DAC Cables
What is the difference between an AOC cable and an optical transceiver?
Stability: Unlike optical transceivers, AOC active optical cables do not have an exposed visual interface; users do not need to worry about clean or contaminated optical interfaces, and the stability and reliability of the AOC system are significantly improved, reducing maintenance costs in the server room.
Maintenance: Unlike optical modules, AOCs do not require cleaning of the interface after a failure. In addition, users save time by not having to test the terminal plugs.
Consistency: AOC (Active Optical Cable) offers greater cabling consistency and repeatability. Enclosed terminals make the AOC more immune to environmental and vibration influences. If a component fails, it can be replaced straight away, helping to save money.
Cost: The AOC is cheaper than an optical transceiver, reducing deployment costs. More importantly, it has the transmission distance to meet the needs of consumers in a variety of short-range transmission applications.