When to Use CWDM or DWDM?
Wavelength Division Multiplexing (WDM) is a popular term that has emerged in recent years. WDM is further divided into CWDM and DWDM, where CWDM stands for Coarse Wavelength Division Multiplexing and DWDM stands for Dense Wavelength Division Multiplexing. CWDM combines signals from multiple laser beams of different wavelengths for fibre optic transmission over a single fibre.
CWDM has fewer channels than DWDM and both technologies are used to increase the bandwidth of fibre optic cables. Multiplexing is carried out using suitable multiplexers such as CWDM multiplexers and DWDM multiplexers. Of these, CWDM SFP modules are a common multiplexing technology used in telecom access, enterprise and metropolitan networks. The technology is subdivided into passive CWDM and active CWDM. what is the difference between these passive and active components? Read the post to find out the answer.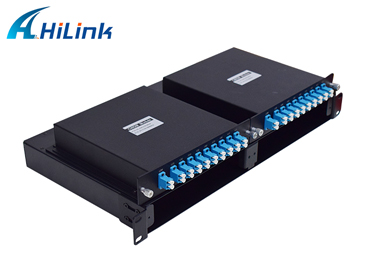 Half-sized LGX Cassette DWDM MUX DEMUX
CWDM Overview
Gaining a basic understanding of CWDM will help you to better understand the active and passive components. In this case, the following instructions will be helpful.
CWDM can transmit up to 18 wavelengths between 1270 nm and 1610 nm on a single strand of fibre.
The wavelengths have a channel spacing of 20 nm and a channel width of 13 nm.
This small channel spacing allows the use of cost-effective lasers.
CWDM technology is less costly than DWDM technology and allows business users to expand their networks without significant investment.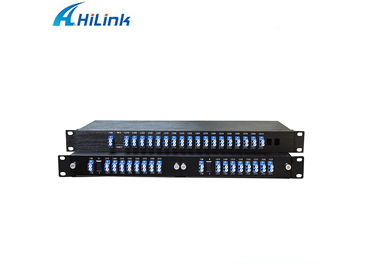 CWDM MUX DEMUX Module
A brief description of Passive CWDM and Active DWDM
Having understood CWDM technology, the next step is the difference between passive CWDM and active DWDM. This section introduces you to these terms and their validity.
Passive CWDM: This technology does not use power, but instead uses prisms and bandpass filters to perform wavelength separation. CWDM mux/demux is a passive CWDM device that can be used in servers, SDH, Ethernet equipment, ATMs, TDM, etc. Most CWDM muxes found on the market today are passive, and demand for these devices has increased in recent years as manufacturers try to sell them to a home audience.
Active CWDM: As the name implies, these devices use active components such as multiplexers and transponders. This type of device has an active transmission platform that performs functions such as calibration, signal monitoring and regeneration. This technology is used to connect ATM switches, routers, fibre optic network switches etc. These devices are more expensive than passive devices, which is why large enterprises and communications operators use them to retrofit or optimise their existing networks. Today, active CWDM devices are widely used in metropolitan area networks (MANs).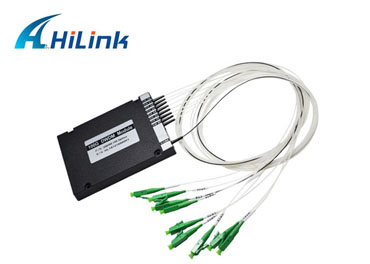 Filters of DWDM MUX/DEMUX ABS BOX
When to use Coarse WDM (CWDM) or Dense WDM (DWDM)
Both types of WDM can effectively address increasing bandwidth capacity but have different channel configurations and each has advantages and disadvantages depending on the environment you plan to use them in and your network challenges. The main difference is that Coarse Wavelength Division Multiplexing (CWDM) is less dense and has a shorter reach than Dense Wavelength Division Multiplexing (DWDM). CWDM can support up to 18 channels on a single fibre and currently has a maximum rate of 100 Gbps.
In contrast, DWDM offers higher density, higher bandwidth and more accurate lasers. Where passive solutions cannot provide the required distance, DWDM can be scaled up to provide longer distances, but inevitably at a higher cost and technical complexity. However, they can be used side by side in the same system at the same time to provide additional flexibility and redundancy when required.
With DWDM 40, 80 or up to 96 channels can be installed on the same pair of fibres, allowing large amounts of data to be transmitted over more available wavelengths. With currently available transceivers, DWDM speeds of up to 400 Gbps per wavelength can be achieved. DWDM is the best choice for long-haul communications of 120 km and above, with the ability to use optical amplifiers and, driven by erbium-doped fibre amplifiers (EDFA), they can transmit large numbers of data kilometres over distances of up to several thousand miles.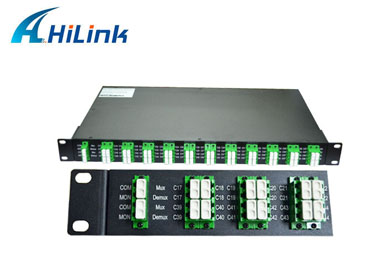 AAWG 40CH DWDM MUX DEMUX

Hilink DWDM MUX DEMUX Modules with 100GHz/200GHz channel spacing can be used to combine or separate wavelength channels at the standard ITU grid. The DWDM modules passively multiplex the optical signal outputs from 4 or more optical transceivers, and send them over a single optical fiber, and then de-multiplex the signals into separate, distinct signals for input into electronic devices at the other end of the fiber optics.
Hilink Technology is specialized in fiber optical products and networking solutions. Our main products are transceiver modules as QSFP, QSFP28, CWDM/ DWDM SFP/XFP. Our networking solutions are including FWDM, DWDM CWDM OLP, MPO AAWG, etc.
We have a professional production line and staff, so we can get the goods ready in a short time. All the items are coming with certification, like RoHS CE FCC, CB TUV, standard. We are committed to providing class 1 products and cost-effective solutions to create new values for our partners.
Welcome to contact us, please visit our website at https://www.hilinktech.com. We will be happy to help you out!