Types of Optical Transceivers
An optical transceiver is a single unit with the functions of a transmitter and receiver. Through optical fiber technology, in the form of optical pulses, optical transceivers convert electrical signals from switches or routers into optical signals that can be transmitted and received. This is done at a very high speed, over a long distance. It can be plugged into or embedded in another device in the data network that can send and receive signals.
Optical fiber transceiver.
The optical transceiver is a module that converts the electrical signal to light in an optical fiber network. With the support of lasers, these optical data or pulses of light can travel up to 100 miles over a cable at speeds of up to 100 GB/s.
The available optical transceivers are of different types or form factors, each of which varies in terms of data type, distance and speed required within the site network. The higher the transmission rate of the optical module is, the more complex the structure is.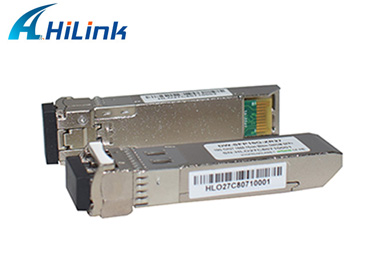 10G 1550NM 80KM SFP+
External dimension.
The external dimensions of the transceiver indicate its size and function. The Multi-Source Protocol (MSA) is used as a standard for transceiver design and production to ensure that all models with the same form factor have the same size and functionality. The application of the local oscillator ensures that the error signal is not radiated.
SFP transceiver.
Mini pluggable (SFP) is a network interface transceiver that is very suitable for a variety of applications, especially data communications and telecommunications.
On network hardware, the SFP interface is a modular slot compatible with transceivers, allowing connections using fiber optics or copper cables. SFP28 is a 25Gb/s interface that uses a 28Gb/s channel. This form factor supports single-mode and multimode fiber connections, direct connections to copper wires, and active fiber optic cables.
SFP+ transceiver.
SFP+ is a multi-rate transceiver that provides the best value in storage area network (SAN) and 8.5Gb/s-to-11Gb/s data communications applications. This module is an improved version of the SFP transceiver, but of the same size.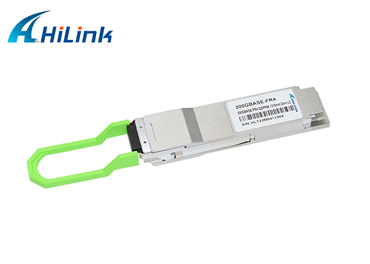 200G 2KM QSFP56 FR4
The SFP+ module is also compatible with SFF-8472 for real-time parameter monitoring, including optical input and output power, temperature and power supply voltage. The SFP+ is about 30% smaller than the XFP module and consumes less energy.
QSFP+ transceiver.
The Quad Small Form Factor Pluggable Plus (QSFP+) module is well integrated into high-performance data centers and computing networks with high-density 40G connections. This form factor has four independent receive and transmits channels that can be terminated to another QSFP+ module. Alternatively, you can assign traffic to four 10Gb SFP+ modules.
According to the QSFP+ multi-source protocol, the 40G QSFP connector can be a duplex LC or a 12-core MPO. The former is suitable for long-distance data transmission using single-mode optical fiber. The latter is very suitable for short-distance data transmission using multimode optical fiber.
CFP transceiver.
C Form-factor Pluggable (CFP) products use modern technology and are relatively large, supporting 100Gb/s.
This model is popular in the United States because it supports a variety of link lengths, data rates, and interfaces that depend on physical media. In addition, the CFP form factor supports both multimode and single-mode fiber.
XFP transceiver.
10Gb small form-factor pluggable (XFP) provides the best performance, price, and data rate for telecom and computer network settings. This form factor is relatively old, but companies use it throughout the United States. XFP applications include 10Gb/s fibre Channel, 10 Gigabit Ethernet and synchronous optical networks.
Flexible network solution.
In terms of data communications and networking, Hilink provides the latest technology at a reasonable price. We offer a comprehensive pluggable module to meet your data rate, distance and cost requirements. Please browse the products on our website and contact us so that we can create customized solutions for your needs today.