What Is the SFP Port of Gigabit Switch?
In the telecommunication industry, SFP ports can be found in a variety of network devices, including Ethernet switches, routers, network interface cards (NIC), servers, etc. A Modern Gigabit switch is usually designed with two or more SFP ports. What is the SFP port of the Gigabit switch? SFP port vs. RJ45 port, what are the differences? And how to connect them? Keep reading to know more.

What Is SFP Port on a Gigabit Switch?
The SFP port on the network switch is designed for use with small form factor (SFF) connectors and offers high speed and physical compactness. The SFP port enables a Gigabit switch to allow optical or copper links by inserting the corresponding SFP module (fiber SFP or copper SFP). Regardless of the optical port or electrical port link, the only difference is the physical layer (media). When the SFP port is inserted in 1G SFP with electrical ports, the network cable (Cat5e/Cat6/Cat7 cable) must be used for data transmission.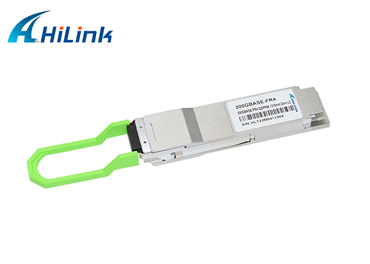 200G 2KM QSFP56 FR4
Whereas, when the SFP port is plugged in Gigabit SFP with optical ports, fiber jumpers (LC fiber) need to support fiber connections. Therefore, the RJ45 SFP module is generally used for short-range uplinks to connect between an all-SFP distribution switch and an all-copper edge switch, and the fiber SFP module is most commonly used for a high-speed fiber uplink over longer distances.
What Is Combo SFP Port?
The combo port is a single interface with dual front ends - RJ45 port or SFP port, so it supports both copper and optical SFP connections. In other words, the combo port is a compound port that can support two different physical ports, and share the same switch fabric and port number. But these two different physical ports cannot be used simultaneously. Each dual combo port is a single interface that offers a choice of two connections: an RJ-45 connection for a copper Ethernet cable and an SFP connection for a fiber optic cable. For instance, if the combo SFP port is being used in a Gigabit switch, then the corresponding copper port is automatically disabled and vice versa.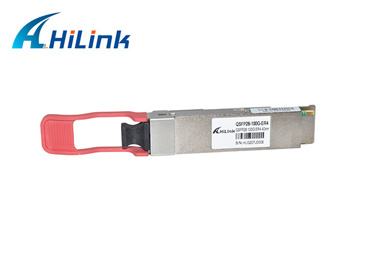 100G 40KM QSFP28 ER4
What Is Uplink SFP Port?
An uplink port is a port on which transmit and receive are reversed, which is designed for an inner-switch connection with a standard straight-through cable instead of a crossover cable. Thus, the uplink SFP port can connect to a regular port of another device. Plug the uplink SFP port of one Gigabit switch into the standard port of another Gigabit switch can help expand the network's size.
Most enterprise switches in the market contain 24 x RJ45 ports with 2 dedicated SFP uplink ports or 48 copper ports with either 2 or 4 dedicated SFP uplink ports. Each SFP uplink port has two lights that indicate activity and the status of that port. FS also provides these uplink SFP ports on 8-port and 24-port Gigabit PoE switches for a 1 Gigabit per second data rate.
SFP Port vs. RJ45 Port of Gigabit Switch
In addition to the SFP ports, the Gigabit switch generally has several RJ45 ports. Both of them can be transmitted with Gigabit Ethernet. Then what are the differences between the SFP Port vs. the RJ45 port of the Gigabit switch?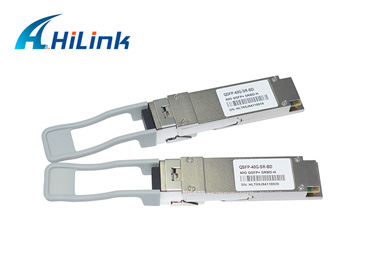 LC 40G QSFP+ BIDI SR4
What Is RJ45 Port on a Gigabit Switch?
The RJ45 port is a built-in port of the Gigabit switch, which follows the 1000BASE-T Ethernet standard. The RJ45 port only supports Ethernet cables (Cat5e/Cat6/Cat7) for 1Gbit/s transmission, and the distance is limited to 100m (330ft). So 1000BASE-T switch with RJ45 ports can be used in data centers for server switching, LANs, uplinks from desktop switches, or directly to the desktop for broadband application.
SFP Port vs. RJ45 Port
Compared with the Ethernet switch using only the RJ45 port, the SFP port switch supports more types of communication cables and longer reaches of links. The SFP port switch is also able to exchange with the port of the 1000BASE-SX, 1000BASE-LX/LH, 1000BASE-ZX, or the 1000BASE- BX10-D/U. But for short-distance links on a Gigabit switch, there is no difference between using an SFP port or an RJ45 port to interconnect Ethernet switches. If you don't plan to connect the server through optical links in the near future, you will not need an SFP port switch and you can stay with standard 1000BASE-T.
Conclusion
SFP port enables Gigabit switches to connect to a wide variety of fiber and Ethernet cables to extend switching functionality throughout the network. As a hot-pluggable I/O device, it can support the RJ45 SFP module and fiber SFP module. To this extent, the Gigabit SFP port is more flexible than the RJ45 port in practical applications. Besides, the combo and uplink SFP port give users the power and flexibility to configure their switches for their unique application requirements. Hilink offers a broad range of copper and fiber SFP modules that are fully compatible with major vendors on the market, which makes us the vendor of choice for optical network components and solutions. For any further information, please visit https://www.hilinktech.com or contact us directly via info@hilinktech.com.