25G SFP28 Transceiver Module Overview
With the evolution of 5G technology and the pursuit of higher speeds in enterprise data centers, equipment providers are responding with 25Gbps edge devices that require more bandwidth than can be provided on a traditional 10Gbps interface. 25G SFP28 transceivers are the critical player among them. They come in various types that cover different transmission distances.

25G SFP28 Transceiver Type and Applications
Following are the main categories of 25G SFP28 transceivers: 25G SFP28 standard transceiver, 25G BiDi SFP28 transceiver, and 25G WDM SFP28 transceiver.
25G Standard SFP28 Transceiver Module
SFP28 SR - "SR" refers to short-range. It is mainly used with OM4 multimode fiber to transfer data over a short distance (up to 100m).

SFP28 LR - "LR" refers to long-range. It is mainly used with OS2 single-mode fiber for long-distance transmission (up to 10km).

SFP28 ER - "ER" refers to extended range. It is used with OS2 single-mode fiber and can realize at most 40km transmission.
They can be plugged into the data center, campus, and service provider switches and routers to provide high-speed 25Gbps connectivity.
25G 10KM CWDM SFP28
25G BiDi SFP28 Transceiver Module
25G BiDi SFP28 transceiver is different from the common 25G SFP28 transceiver. It uses one port to transmit and receive signals over a single strand fiber and must be used in pairs. It adopts two optical signals of different center wavelengths, for example, 1270nm-TX/1330nm-RX at one end and 1330nm-TX/1270nm-RX on the other end. BiDi SFP28 transceivers realize bidirectional transmission of optical signals on one optical fiber, thus saving fiber resources and leading the next generation of 5G communication technology.
25G WDM SFP28 Transceiver Module
25G WDM SFP28 transceiver consists of 25G CWDM SFP28 transceiver, 25G DWDM SFP28 transceiver, and 25G LWDM SFP28 transceiver, all of which are commonly used in 5G front-haul networks.
25G CWDM SFP28 transceiver is a single-mode CWDM transceiver for duplex optical data communications at a nominal wavelength of CWDM (1271~1331nm). CWDM transceiver is designed for short-range communications and is mainly used for city and access networks. Moreover, the 25G CWDM SFP28 solution can well solve the current 5G millimeter-wave pre-transmission problem.
25G DWDM SFP28 transceiver is designed for 25G Ethernet and CPRI/eCPRI links over SMF where wavelengths are packed tightly together in order to increase bandwidth over existing fiber networks.
25G SFP28 LWDM transceiver presents as a low-cost solution among 25G WDM transceivers, for it adopts relatively cheap DML lasers to keep a stable transmission, making it an ideal and efficient solution in 5G front-haul transmission. The module can also save fiber resources by achieving the transmission of the multi-channel signals on one single fiber.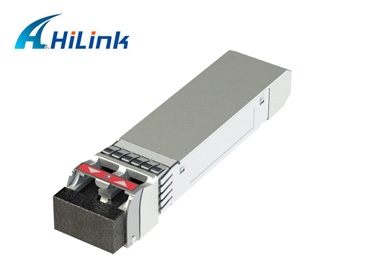 25GB SFP28 DWDM 20KM Transceiver
25G SFP28 Transceivers FAQs
What is the maximum supported distance for 25G SFP28 transceivers?
The maximum currently supported distance for 25G is 40km using the SFP-25G-ER transceiver module. Additional optics may be released in the future to support longer distances.
Are 25G SFP28 transceivers of different brands interoperable with each other?
It depends on the SFP28 standards with which the 25G transceivers are compliant. As long as the 25G SFP28 transceivers meet the associated industry-standard specifications, they are fully interoperable.
Can I connect SFP28 ports with QSFP28 ports?
Yes, it is available by configuring the QSFP28 100G transceiver to work at 4*25G breakout mode, and using the supported hardware to connect SFP28 ports with QSFP28 ports, such as QSFP28 to SFP28 DAC/AOC breakout cable or MTP-LC breakout cable with one 100G QSFP28 optical module is used on one side and four 25G SFP28 optical modules used on the other side.
Conclusion
25GbE transceiver is a critical carrier to implement 25G Ethernet technology in cloud and enterprise data center environments. As the enhanced version of SFP+, 25G SFP28 transceiver is able to handle 25Gbps per lane transceiver while ensuring backward compatibility to SFP and SFP+.

Contact us today or visit our website to learn more about optical modules.