How to Classify Optical Transceivers?
An optical transceiver module is the core part of optical communication devices. It uses fiber optical technology to send and receive data by completing the process of optical signal - electrical signal / electrical signal - optical signal conversion. An optical transceiver module consists of two parts: the receiving part and the transmitting part. The receiving part realizes the photo-electric conversion, and the transmitting part realizes the electro-optical conversion.
Usually, one end of the transceiver will be connected to a cable, and the opposite end will have a special connector for fitting it into specific models of enterprise-grade Ethernet switches, routers, or network interface cards.
2. How to Classify Optical Transceivers?
In order to meet a variety of needs for transmission, the manufacturers launched a variety of categories of optical modules. Below are some common methods to classify them.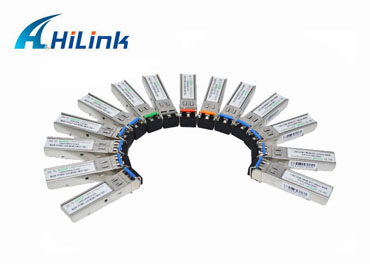 Dual Fiber 155m 4.25g SFP Transceivers
1) Sort by Rate
400GE optical transceiver module
200GE optical transceiver module
100GE optical transceiver module
40GE optical transceiver module
25GE optical transceiver module,
10GE optical transceiver module and etc.
2) Sort by Package
The higher the transmission rate of the optical transceiver, the more complex the structure. In order to meet the needs of different structures, a variety of packaging types of optical transceiver modules were designed. For example, XFP, SFP, SFP+ for 10G transceivers, QSFP+ for 40G transceivers, CFP4, CFP2, and QSFP28 for 100G transceivers, as well as the latest OSFP and QSFP-DD for 400G transceivers.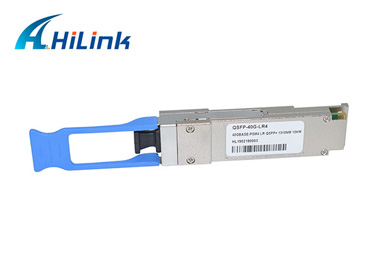 40G QSFP LR4 Optical Transceiver
XFP (10GB Small Form-factor Pluggable) optical module: "X" is the abbreviation of the Roman numerals 10, all XFP modules are 10G optical modules. The XFP optical module supports LC fiber optic connectors and supports hot plugging. Compared to SFP+ and SFP optical modules, XFP optical modules are larger and longer.

SFP (Small Form-factor Pluggable) optical module: smaller than XFP, SFP optical modules support LC fiber optic connectors and hot plugging.

SFP+ (Small Form-factor Pluggable Plus) optical module: SFP+ refers to the increased rate of the SFP module, sensitive to EMI.

QSFP+ (Quad Small Form-factor Pluggable Plus) optical module: four-channel small hot plugging optical module. The QSFP + optical module supports MPO fiber connectors, which are larger in size than SFP + optical modules.
CFP (Centum Form-factor Pluggable) optical module: length × width × height of CFP is defined as 144.75mm × 82mm × 13.6mm, high-speed, hot plugging and supporting for data communications and telecommunications applications.
QSFP28 optical module: the interface package size of QSFP28 is the same with QSFP+, which is mainly used in Data Center application.
OSFP (Octal Small Form Factor Pluggable) optical module: the OSFP is a new pluggable form factor with eight high-speed electrical lanes that will initially support 400 Gbps (8x50G). It is slightly wider and deeper than the QSFP but it still supports 32 OSFP ports per 1U front panel, enabling 12.8 Tbps per 1U.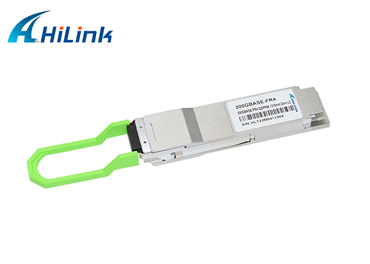 200G 2KM QSFP56 FR4
QSFP-DD (Quad Small Form Factor Pluggable Double Density) optical module: QSFP-DD is a new module and cage/connector system similar to the current QSFP, but with an additional row of contacts providing for an eight-lane electrical interface. It is being developed by the QSFP-DD MSA as a key part of the industry's effort to enable high-speed solutions. For more information, please view https://www.hilinktech.com.
3) Sort by Physical Layer Standard
In order to allow the data to be transmitted in different conditions and applications, the optical communication industry defined a variety of different physical layer standards, which resulted in a variety of optical transceiver modules supporting different standards.
For example, IEEE and MSA industry alliances have set several criteria for the 100G QSFP28 optical modules, like SR4, LR4, ER4, PSM4, CWDM4 and etc.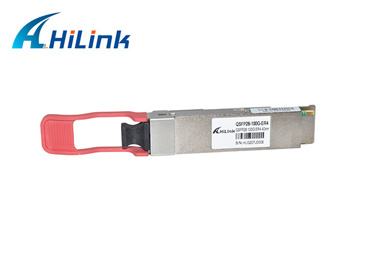 100G 40KM QSFP28 ER4
4) Sort by Pattern
As we all know, fiber can be divided into single-mode fiber and multi-mode fiber. In order to use different types of fiber, we also classify optical transceiver modules into single-mode optical modules and multi-mode optical modules.
Single-mode optical module is used to match single-mode fiber with better transmission capacity, which is suitable for long-distance transmission.
The multi-mode optical module is used to match multi-mode fiber. Multimode fiber has the defect of mode dispersion, its transmission performance is poorer than single-mode fiber. However, with better cost performance, they are popular in a smaller capacity and short-distance transmission.
For more information and consultation, contact us here!