100GHz Flat-top AAWG Module
Based on silica-on-silicon technology, the Hilink AAWG (Athermal Arrayed Waveguide Grating) DWDM MUX/DEMUX is designed for ITU channel spacing applications , no electrical power required
This standard metal box AAWG operates at 100GHz channel 0.8nm spacing ITU Grid DWDM wavelengths from 1528nm to 1565nm with Guassian or Flat top spectrum shape.
AAWG (Athermal Arrayed Waveguide Grating) 100GHz channel 0.8nm spacing ITU Grid DWDM wavelengths
Features:
Ø Athermal design operates over operating temperature range
Ø Large channel number
Ø Compact size
Ø High stability and reliability
Ø Low insertion loss, high isolation increase system margin
Applications:
DWDM Network
DWDM transmission
Metro and long haul network
Compliance:
Telcordia GR-1209-CORE-2001
Telcordia GR-1221-CORE-1999
ITU-T G.694.1
RoHS
The Advantages of AAWG
Compared with the traditional TFF(Filter) technology, AAWG has the much better price and the following obvious advantages:
1. AAWG has thermal stability and improved ITU-Grid accuracy that ITU-G694.1 requires for with wider transmission bandwidth, thus it can be applied to high-end areas such as Metro/long-haul DWDM optical communication system.
2. Better PMD feature (< 0.5 ps) enables it to meet the requirements of the 40G/100G DWDM transmission system and the PMD tolerance of the high speed system.
3. AAWG does not need external circuit control. As a pure passive product, it can use self-compensation technology to do self-adaptation control for external temperature. Its center wavelength is insensitive to the change of ambient temperature.
100GHz AAWG Module
Performance Specifications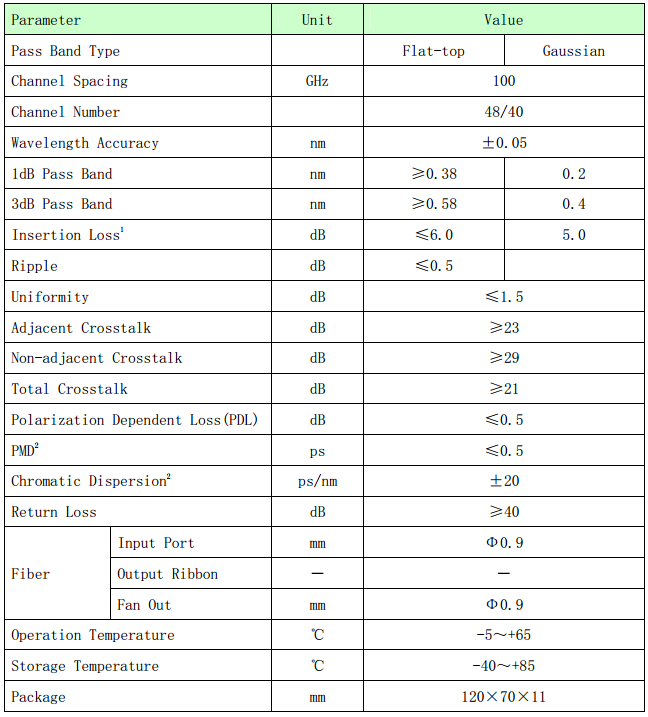 Order Information:
Filter Mode

AAWG

Channel Spacing

Channel Number

Operating Band

1st Channel

Fiber Type

Fiber Length

Connector

Type

F=Flat-Top

G=Gaussian

100=100GHz

50=50GHZ

40=40Channel

48=48Channel

XX=XXChannel

32=32-Channel

C=C Band

CL=C&L

X=others

21=1560.61nm

22=1559.79nm

23=1558.98nm…

1=Bare fiber

2=900um Jacket

1=1 Meter

2=2 Meter

0=None

FA=FC/APC

FP=FC/PC

SA=SC/APC

SP=SC/PC

SP=ST/PC

LP=LC/PC