Considerations for QSFP+ to SFP+ Splitting
Typically, most switches from different vendors support this split configuration, either standalone or stacked. Of course, you will still need to check this feature in your switch's manual or consult your vendor, as it is the most basic requirement for splitting QSFP+ into SFP+ configurations. Sometimes splitting is supported on most ports on a switch, but some are not. In other cases, when the switch is deployed as a leaf switch, some ports do not support splitting. Or this may also limit splitting configurations when ports are already used as stacked ports. Therefore, depending on your application, conditions may vary greatly.
In addition, before you can split a QSFP+ port into a 4x10G port, you should first ensure that the 40G port is in the default configuration and also removed from other L2/L3 functional configurations. This is because the QSFP+ port remains available during the splitting process until you reload the system. Therefore, you must reload after issuing the CLI for the changes to take effect.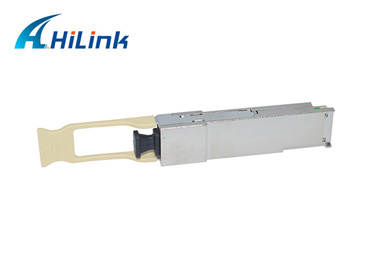 MPO 40G 850NM 100M QSFP SR4

Three methods of cabling QSFP+ to SFP+ connections
As mentioned earlier, there are several commonly used QSFP+ to SFP+ cables to choose from. We will now explain their differences and advantages.
40G QSFP+ to 4x10G SFP+ DAC/AOC
Using 40G QSFP+ to 4x10G SFP+ DAC or AOC is essentially the same as they have a similar form factor and usage. They both consist of a QSFP+ connector on one end and four separate SFP+ connectors on the other. the QSFP+ connectors provide four parallel bi-directional lanes, each operating at up to 10 Gbps, and can be plugged directly into the QSFP+ port on the switch. One of the main differences between the two cables is the transmission distance, which is caused by the difference in transmission media - copper for DAC and fiber for AOC. As a result, DACs typically have shorter transmission distances than AOCs.
In 40G-10G split connections, both 40G QSFP+ to 4x10G SFP+ AOCs and DACs can be connected directly to the switch, which means that no more transceiver modules are needed, thus saving costs and simplifying connections. The biggest drawback, however, is the limited transmission distance, which means that such DACs or AOCs may be better suited to connections within a rack or between two racks in close proximity.
40G QSFP+ to 4 duplex LC AOC
There is also a special type of AOC called the 40G QSFP+ to 4 duplex LC AOC branch cable with one QSFP+ connector on one end and four LC connectors on the other. This can also be used in a split between a QSFP+ transceiver plugged directly into a 40G port and an LC connector plugged into four SFP+ transceivers. This usage differs from the 40G QSFP+ to 4x10G SFP+ AOC as these LC connectors can be used to connect many other types of Ethernet devices and are well suited to diverse needs.
MTP to 4x LC tap cable
The MTP to 4x LC branch cable consists of an 8-conductor MTP connector for 40G QSFP+ on one end and 4 duplex LC connectors for 10G SFP+ on the other end. Each cable transmits at 10Gbps. This type of cable is suitable for high-density networks and can reach longer distances than DACs and AOCs. A 40G to 10G connection can be achieved using MTP to 4x LC branch cables with one 40G QSFP+ SR4 module and four 10G SFP+ SR modules. This approach allows for more flexibility as the LC connectors can connect different devices.
If you want to get more information about the Hilink 40G QSFP SR4 Optical Transceiver, welcome to contact us today or request a quote.