10GBASE-T vs SFP+ Fiber vs SFP+ DAC: What Are Their Differences?
When designing a new network architecture that would be based on 10GB Ethernet, We have to face the challenge of choosing the appropriate equipment with the goal to gain maximum performance and to support the future needs of complex network applications.
There are two options for 10 gigabit ethernet network interconnect: 10GBASE-T and SFP+ Solution (SFP+ optics/ DAC/AOC). The 10GBASE-T copper module can span network links up to 100 meters over cat 6a/cat 7 cables. SFP+ optics will support distances up to 300 meters on multimode fiber; on single-mode fiber, it will support distances up to 80 kilometers. And, SFP+ DAC /AOC cables are ideal for deployment of blade chassis or 10GbE in racks over short distances, such as 3m 5m 7m 15m up to 30m. For SFP+ optics, you can read Understanding of 10GBase-T SFP+ Copper Transceiver Modules.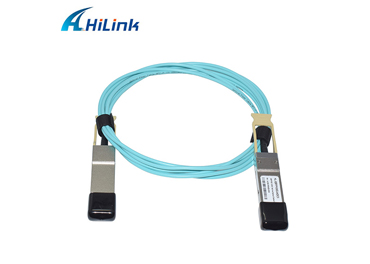 100G QSFP28 AOC
10GBASE-T vs SFP+ Fiber vs SFP+ DAC: What Are Their Differences?
In this part, the 10GBASE-T module, SFP+ fiber transceiver, and SFP+ DAC differences are elaborated in the following descriptions from the points of flexibility, backward compatibility, latency, distance, and cost.
Latency
Low latency is paramount to ensure fast response time and reduce CPU idle cycles, which increases data center efficiency and ROI. 10GBASE-T copper modules adopt the PHY standard to use block encoding to transport data across the copper cables without error. The PHY standard specifies 2.6 microseconds for the transmit-receive pair, and the size of the block requires that latency be less than 2 microseconds. SFP+ uses simplified electronics without encoding, and its typical latency is around 300 nanoseconds per link. We can see from the following figure that, SFP+ fiber provides lower latency than the other two products.
10G 1550NM 100KM SFP+
Power Consumption
The 10GBASE-T solution consumes a lot more power than the SFP+ solutions, approximately three to four times more. The power consumption of 10GBASE-T depends on the distance of the cable and it can vary from 2 to 5 watts per port at each end of the cable. On the other hand, the SFP+ solutions consume around 0.7 watts per port regardless of the distance of the cable. This is a key difference knowing that in a typical Datacenter there are thousands of cables installed which, if SFP+ is used, would save a lot of money and headaches in a long run.
Backward Compatibility
10GBASE-T copper cabling is backward compatible effectively with standard copper network devices which can maximize the utilization of existing copper structured cabling. Using the RJ45 connector, the 10GBase-T port can connect to 1 gigabit and even 100 megabit interfaces. DACs can't be used to connect to legacy equipment and are only used for 10GbE switches. However, SFP 1 gigabit transceivers can be inserted into SFP+ ports and will work at 1 gigabit, connecting to legacy ports over fiber cable. SFP modules supporting 1GBase-T can also be inserted to connect to legacy ports at slower speeds.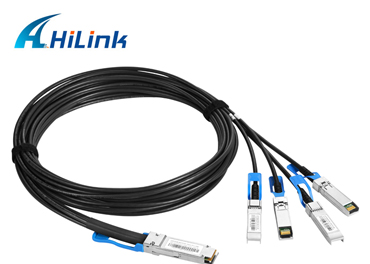 Breakout 100g QSFP28 To 4SFP28 DAC Cable
Application
10GBASE-T SFP+ is often applied for the wiring closet contained switches and patch panels which provide connectivity to large populations of desktop computers with 100m. For data centers and HPC, the advantages of SFP+ DACs are a very good match for today's requirements and emerging trends, they are usually used for the Top of Rack intra-cabinet connectivity from servers to ToR switches within 10m, such as interconnected with top-of-rack switches and servers, as well as between storage devices in one rack or neighboring racks. SFP+ Modules are commonly applied for campus LANs to tie together multiple buildings, typically spanning longer distances.