XFP vs SFP+: FAQs
In fiber optic networking, the optical module is the indispensable building block and the enabler of seamless data transmission. 10G fiber optic transceivers are still popular in the market such as 10G XFP and 10G SFP+, then XFP vs SFP+, what are the differences? How about their inter-compatibility? Can we connect XFP with the SFP+ module? Find all the answers in the following.
XFP vs SFP+: Definition
The XFP (10 Gigabit Small Form Factor Pluggable) is a standard for modules for high-speed networks and telecommunication links that use optical fiber. XFP modules are hot-swappable, protocol-independent and they typically operate at near-infrared wavelengths (colors) of 850nm, 1310nm, or 1550nm. Also, XFP transceivers can operate over a single wavelength or use dense wavelength-division multiplexing techniques. Principal applications of XFP modules include SONET OC-192, SDH STM-64, 10 Gbit/s Optical Transport Network (OTN) OTU-2, and parallel optics links.
The SFP+ (Enhanced Small Form-factor Pluggable) is an enhanced version of the SFP that supports data rates up to 16 Gbit/s. 10G SFP+ modules can be applied for SONET OC-192, SDH STM-64, OTN G.709, CPRI wireless, 16G Fibre Channel, and the emerging 32G Fibre Channel application.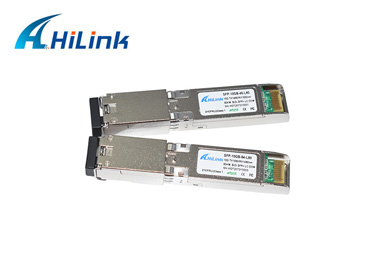 10G 1490NM/1550NM 80KM BIDI SFP+
Through comparing XFP vs SFP+, it is clear that SFP+ shares some advantages over XFP:
10G SFP+ optics has a smaller footprint than the XFP modules, which can also enable greater port density. That is because SFP+ transceivers leave more circuitry to be implemented on the motherboard instead of its inside — it moves some functions to the motherboard, including signal modulation function, MAC, CDR, and EDC. Moreover, XFP technology is relatively older but more expensive, that's also the reason 10G SFP+ modules have been gaining more market share.
XFP vs SFP+: Application Scenarios
XFP optics are connectivity options for data centers, enterprise wiring closets, and service provider transport applications.
10G SFP+ Transceivers are widely used on 10G switches, routers, servers, NICs, and other transmission equipment. Featuring low power consumption and high speed, SFP+ is suitable for data center, enterprise wiring closets, and other environments. You can click the link to see the details. Quick Link to fiber optical products suppliers.
Additionally, 10G XFP and SFP+ transceivers can be inter-compatible in one Ethernet network on the condition that their protocols are consistent and they conform to the same wavelength and signaling rate.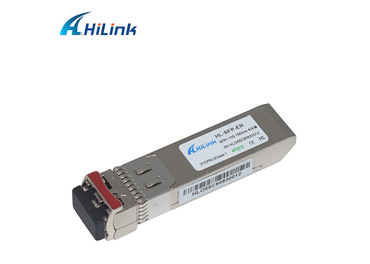 10G 1550NM 40KM ER SFP+
XFP vs SFP+: FAQs
Q: Can the XFP module connect with the SFP+ transceiver?
A: XFP connector and SFP+ connector are both LC duplex. For example, the XFP 10G 1310nm transceivers can talk to the SFP+ 10G 1310nm modules via LC duplex fiber optic cable. The following figure shows a typical interconnection application with XFP and SFP+ modules.
Q: Can I plug the SFP+ module into the XFP slot?
A: No. Since the size of the two formats is totally different from each other, it is not feasible to use the SFP+ module in the XFP slot and vice versa. Please make clear which port type the switch is equipped with and remember that XFP and SFP+ optical transceivers are not interchangeable.
Q: What are the differences between XFP vs SFP+ vs SFP?
A: SFP and SFP+ are the same sizes with different speeds and compatibility. Unlike XFP and SFP+ modules which are used in 10GbE applications, SFP is for 100BASE or 1000BASE applications. And SFP+ ports can accept SFP optics at a reduced speed of 1 Gbit/s, but an SFP+ transceiver can not be plugged into an SFP port.
Q: How's the prospect of 10G XFP and SFP+ modules?
A: Though the pursuit for higher bandwidth is unstoppable, 10GbE won't step out of the market in many cases. SFP+ transceivers are still a mainstream option offering a smaller size, lower consumption, and lower cost. Not as popular as SFP+ transceivers, 10G XFP modules still play an irreplaceable role in some 10G network applications.

Conclusion:
To summarize, XFP vs SFP+, there are many differences. While SFP+ transceivers have a smaller size than 10G XFP modules, considering cost, port density, and applications, 10G SFP+ transceivers are favored in the market as a cost-effective solution.
About fiber optical products suppliers
Shenzhen Hilink (HAILI LINK) Technology is specialized in fiber optical products and networking solutions. Our main products are transceiver modules such as QSFP, QSFP28, CWDM/ DWDM SFP/XFP.