Difference between DWDM Optical Modules and Ordinary Optical Modules
The emergence of DWDM technology has caused a new wave of optical network development, with the continuous growth of services and unlimited demand for bandwidth of network applications, the rapid development of DWDM optical network, nowadays we can often see its figure in the long-distance trunk system.
DWDM optical module as one of the indispensable optical components in DWDM optical network, how much do you know about it? What is the difference between it and ordinary optical modules? You will find the answer after reading this article.
What is DWDM optical module? What is the difference between it and an ordinary optical module?
DWDM optical module is designed for single-mode fiber (long-distance transmission), working in the wavelength (i.e. DWDM wavelength) between 1528.38~1563.86 nm (i.e. channel 17 to channel 61) (ITU-T regulations), commonly used in repeaters/transponders, OTN transmission platforms, switches, servers, and other network equipment, with a maximum transmission distance of up to 120 km.
DWDM optical modules are the same as ordinary optical modules are optical devices to achieve photoelectric signal conversion, the difference is that DWDM optical modules use DWDM technology to multiplex different wavelengths or several optical signals into a single fiber for transmission, which can effectively save fiber resources.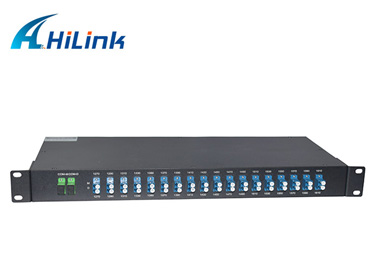 Common DWDM optical module types
There are many types of DWDM optical modules on the market, such as DWDM SFP optical modules, DWDM SFP+ optical modules, and DWDM SFP28 optical modules, with a maximum transmission rate of up to 25Gbps.
DWDM SFP optical module-meets IEEE802.3z Gigabit Ethernet standard and ANSI Fibre Channel specification, suitable for Gigabit Ethernet and Fibre Channel environment with a transmission rate of 100 Mbps to 2.5Gbps.

DWDM XFP optical module-meets XFP MSA specification for SONET/SDH, 10 Gigabit Ethernet, and 10 Gigabit Fibre Channel applications.

DWDM SFP+ Optical Module - Smaller package size compared to 10G DWDM XFP optical module, this module is the best solution for 10 Gigabit applications, suitable for network systems requiring high flexibility and scalability, with transmission distance up to 80 km, in compliance with 10GBASE-ZR/ZW standard.

DWDM SFP28 optical module - Meet the demand of 5G forwarding service with the maximum transmission distance up to 10 km, suitable for 25G Ethernet and CPRI/eCPRI 5G forwarding network.
DWDM optical module development prospect
Today, DWDM optical modules are widely used in telecom, cable TV, and data centers with high data traffic, especially in ultra-large-scale cloud service providers or multi-tenant data centers (hosted data centers). With the rapid growth of network traffic, data centers continue to upgrade and iterate, bringing huge opportunities for the optical module industry. DWDM optical modules, as the core components of long-distance and high-capacity optical networks, are developing towards small size, high speed, and low power consumption in order to meet the market development trend. 5G forward transmission network promotes the development of DWDM optical modules.
Summary
In the past few years, DWDM optical modules have begun to be widely used by the industry, especially in long-distance transmission. Although the current market share of adjustable DWDM optical modules is relatively small, we can still see the huge potential for its development, as the need for adjustable also need to be based on the specific circumstances of the network.